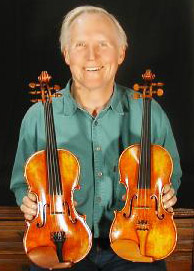 The Double Stop Fiddle Shop carries a wide variety of instruments in the violin family for professionals, collectors and beginners. The Shop also carries guitars, banjos and mandolins -- both new and vintange. We offer a repair and re-hairing service at the shop and are always looking for instruments and will offer top dollar for yours. If you are thinking of up-grading, your
trade-in is certainly welcome.

Take a look at our Music Hall Schedule to see
the Byron Berline Band and many guests who grace our stage most Saturday nights. Instructional Video for fiddle, mandolin and
guitar are also available here at the shop.

More about Byron & the Fiddle Shop

All News - DSFS News - Music Hall Shows - Newsletters


Show Canceled - Dec 21, 2013 • Posted on Dec 21 2013

We are so sorry to have to make this decision at the last minute, but we have canceled the show for December 21, 2013 due to the weather. Please stay safe everyone. We hope you all have a wonderful holiday season and hope to see you at our next show on Janurary 4th.

....
Newsletter ~ Jan - April 2014 • Posted on Dec 09 2013

Merry Christmas & Happy 2014!

2014! Can you believe it --- sure goes by fast, ... ....

Read more
Mumford and Sons Gentlemen of the Road Guthrie Stopover Downtown Street Festival • Posted on Aug 23 2013

Unless you live on Venus or Mars (or out of state) you have heard about the big music event coming to Guthrie the first weekend of Sept. ... ....

Read more
Have our latest news sent to your mailbox.