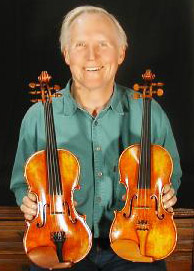 The Double Stop Fiddle Shop carries a wide variety of instruments in the violin family for professionals, collectors and beginners. The Shop also carries guitars, banjos and mandolins -- both new and vintange. We offer a repair and re-hairing service at the shop and are always looking for instruments and will offer top dollar for yours. If you are thinking of up-grading, your
trade-in is certainly welcome.

Take a look at our Music Hall Schedule to see
the Byron Berline Band and many guests who grace our stage most Saturday nights. Instructional Video for fiddle, mandolin and
guitar are also available here at the shop.

More about Byron & the Fiddle Shop

All News - DSFS News - Music Hall Shows - Newsletters


Newsletter Sept - Dec. 2016 • Posted on Sep 07 2016

Hot, hot, hot!


... but expecting cooler weather before Christmas! (we hope). ... ....

Read more
Discount Tix & Outside Appearances • Posted on Jun 24 2016


Discount Tickets
We are continuing the offer for bargain tickets, 8 shows for $68, which includes our Western Swing evening and the concert at the Community Church. That is $8.00 per show May through August ($12 for Western Swing), and the privilege of selecting your reserved seat location. The tickets will be ready to buy by the time you read this. Remember it is first come, first served for your seat selection, and we hold your seat for you only until show time. 2 = $136


Out & About

Tues. May 24 OKC Community College 7:30pm

Sat. June 18 G-FEST, Muskogee www,gfest.com

Fri. Aug 26 Altus Rodeo, Altus,OK
....
Have our latest news sent to your mailbox.